Did you know most of the infamous skincare brands are not truly cruelty free? Yes, that's true. The main factor is the controversial law of china, which requires the brands to test the products on animals before selling them. Consequently, most brands are forced to let go of their cruelty free policy. However, there are still brands that do not comply with such laws and have adopted completely cruelty free practices.
That was our inspiration behind this topic. And here we bring some best cruelty free face exfoliators that you can make choices to add to your skin. Cleansers play an integral part in a skincare routine, from keeping the skin pure and clean to curing issues like acne and age lines therefore, we decided to give you the 8 best cruelty free-cleansers recommendations!
Quick Picks:
| | |
| --- | --- |
| Best Overall | Beste No. 9 Jelly Cleanser by Drunk Elephant |
| Best drugstore | DERMA E Hydrating Gentle Cleanser |
| Best For Oily Skin | Oil-Reducing Cleanser by Paula's Choice |
| Best For Normal Skin | Superfood Antioxidant Cleanser byYouth To The People |
| Best For Dry Skin | Milky Jelly Cleanser by Glossier |
| Best For Acne Prone Skin | Squalane Cleanser by The Ordinary |
| Best For Sensitive Skin Skin | Aloe Calming Cream Cleanser by The Body Shop |
| Best For Anti-Aging Effect | Regenerating CleanserBy Tata Harper |
Best Overall: Beste No. 9 Jelly Cleanser by Drunk Elephant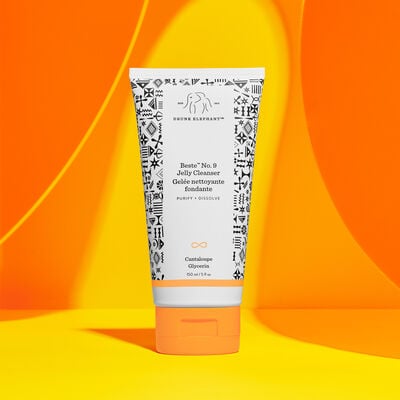 Recently there was huge hype surrounding Drunk Elephant's jelly cleansers, and it definitely lives up to it. We placed it as the best recommendation of our best cruelty free face exfoliators due to the brand's aim only to use natural ingredients. It is quite rare to find a brand with such policies. Contrary to what the name suggests, it has more liquid consistency than a jelly, which foams up nicely with only a little water and leaves the skin plump and pristine.
It's perfect for sensitive skin as it doesn't contain any essential oil and is fragrance-free Furthermore, it contains aloe vera and cantaloupe extracts which are well-known for their anti-inflammatory effect that reduces skin redness.
The star of the show, virgin marula oil, not only assists the antioxidants in cantaloupe extract but also contains omega 6 and 9, which are essentially the building block of collagen.
Coconut surfactant, with the help of fatty acid in the cruelty free cleanser's formula, rebuilds the skin barrier that gets washed off after using cleansers, leaving the skin feeling silky smooth.
However, it may not work for every skin, occasionally, it leaves the skin feeling tight. Though, this can be easily overcome with the use of moisturizer.
Best Drugstore: DERMA E Hydrating Gentle Cleanser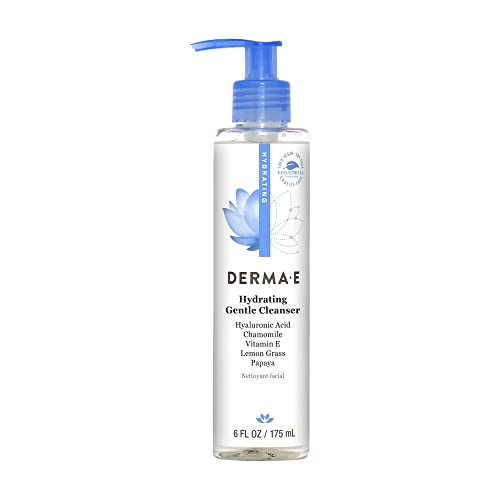 Derma E, a well-known drugstore brand has the best cheap cruelty free cleanser that contains various ingredients to keep the skin velvety, plump, and radiant which makes it on our list of best cruelty free face exfoliators. Moreover, it's paraben and sulfate free, making it the perfect environmentally friendly choice. 
The formula contains the MVP of skincare products, hyaluronic acid, which joins forces with Vitamin E and A to reconstruct the skin's natural barrier and traps the moisture to keep the skin hydrated. The chamomile enhances the natural skin and gives it a radiant glow and the papaya extract further nourishes the skin by rubbing off the dead skin layer off the face.
Despite being on our list of best cruelty free face exfoliators, it isn't fragrance-free and sometimes can irritate sensitive skin and eyes. If you have extremely dry skin, you will want to avoid this and check out our recommended cruelty free cleanser for dry skin because this cleanser can further the skin's flakiness.
All-in-all, it does the job perfectly by removing the most stubborn makeup and oils from deep within the pores. Even if it isn't the best choice for some people, it works brilliantly with the majority, it's for sure worth the money!
Best For Oily Skin: Oil-Reducing Cleanser by Paula's Choice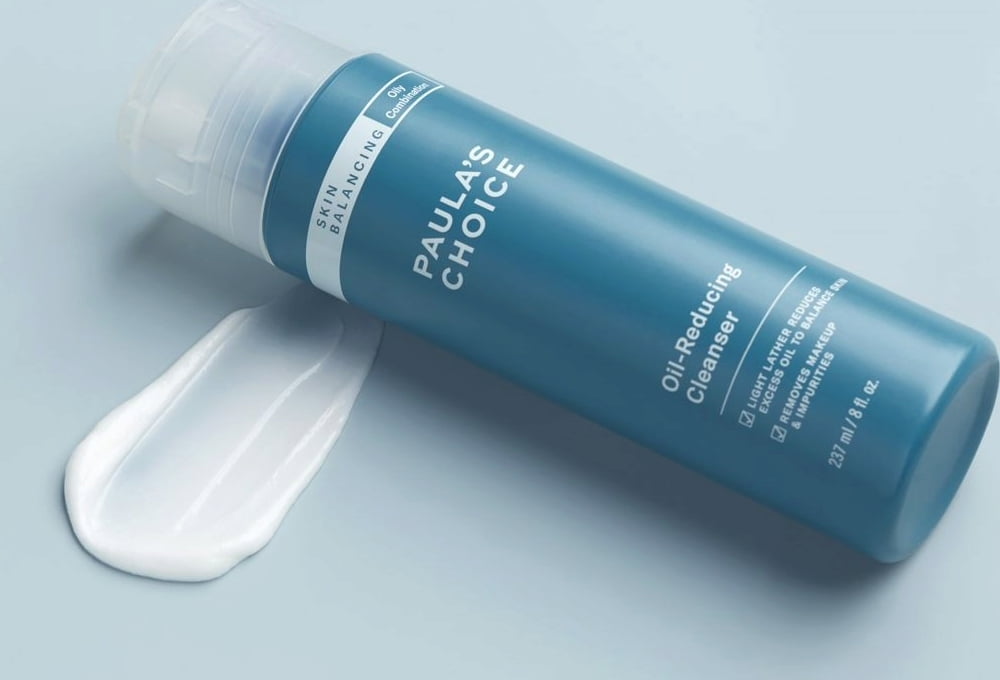 Paula's Choice has gained hype from their AHA BHA exfoliant, which was everyone's favorite, but their cream-to-foam cleanser gained well-deserved hype too. Thanks to its exceptional compatibility with oily skin that help us bring you this among our list of best cruelty free face exfoliators which helps you to get rid of excess oil without stripping the natural oils off of the skin.
Not only does it do a good job at cleansing, but it is also proven to minimize the appearance of enlarged pores, which is a plus in a cleanser!
Moreover, It helps maintain the normal PH of the skin and leaves you with smooth and supple skin while acting as a good makeup remover as well.
Its key ingredients consist of sunflower seed oil which is rich in antioxidants. It helps in effectively evening out two-toned skin and skin texture. Secondly, it has glycerin as well to assist in keeping the skin hydrated and helps in keeping the skin moisturized. What more could you ask for in a cleanser in this list of best cruelty free face exfoliators, especially cruelty free cleanser?
Unfortunately, it can be a little harsh on the eyes because it may irritate and sting which is a downside of a cleanser.
Best For Normal Skin: Superfood Antioxidant Cleanser by
Youth To The People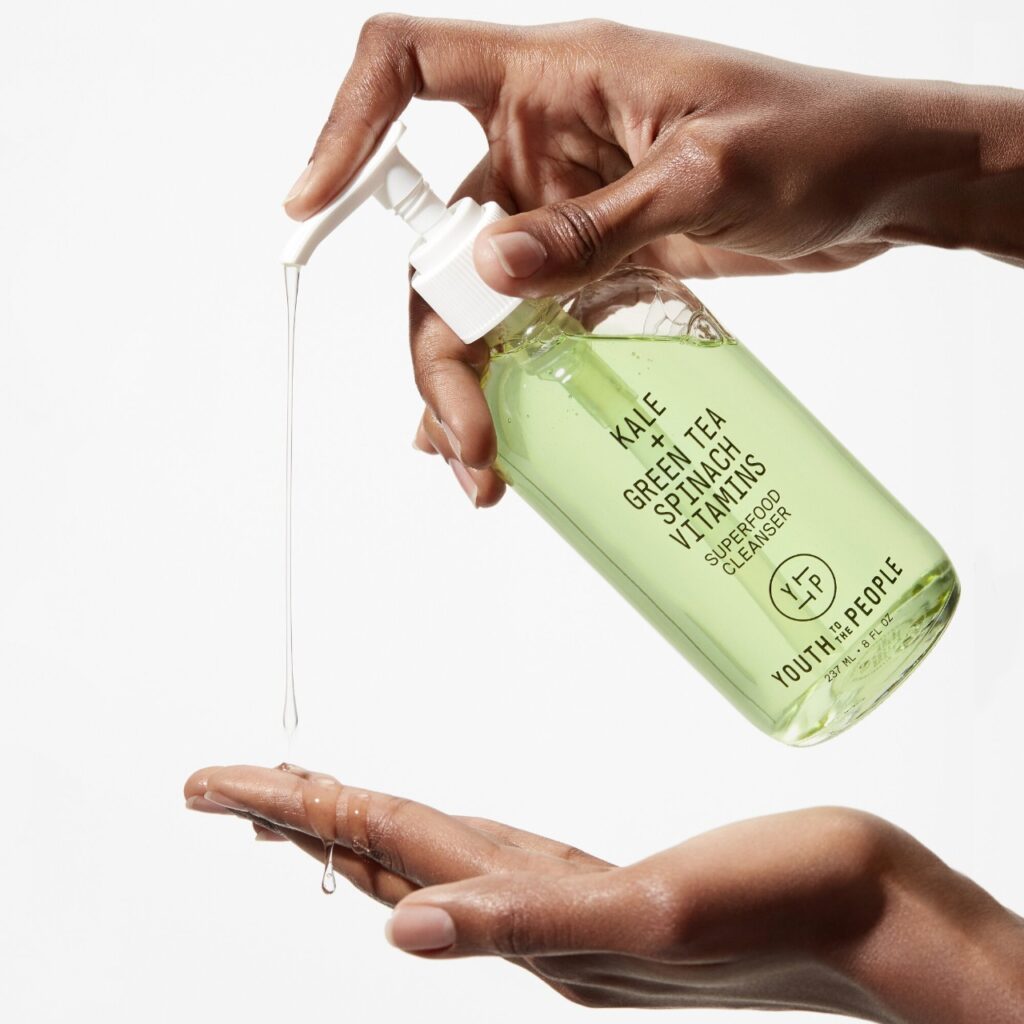 If it's green it's healthy, right? The award-winning green cruelty free cleanser contains a vegetable you don't often find in skincare products known as the nutritious kale which makes it unique from the other best cruelty free face exfoliators. Perhaps that is the reason for its rising fame or the fact that it works extraordinarily well with combination skin.
The combination of kale and spinach provides the skin with phytonutrients that protect the skin from damage caused by the sun. It is infused with green tea, an effective nutrient to combat droopiness of the skin and decrease wrinkles.
The only downside is it contains a mild fragrance, which can irritate the skin. Despite this, it's praiseworthy, as it has shown results in just a few days! A cleanser that can hydrate and make your skin ample while still effectively getting all the makeup, oil, and dirt cleaned off plus did we mention its cruelty free? And also among the best cruelty free face exfoliators?
Best For Dry Skin: Milky Jelly Cleanser by Glossier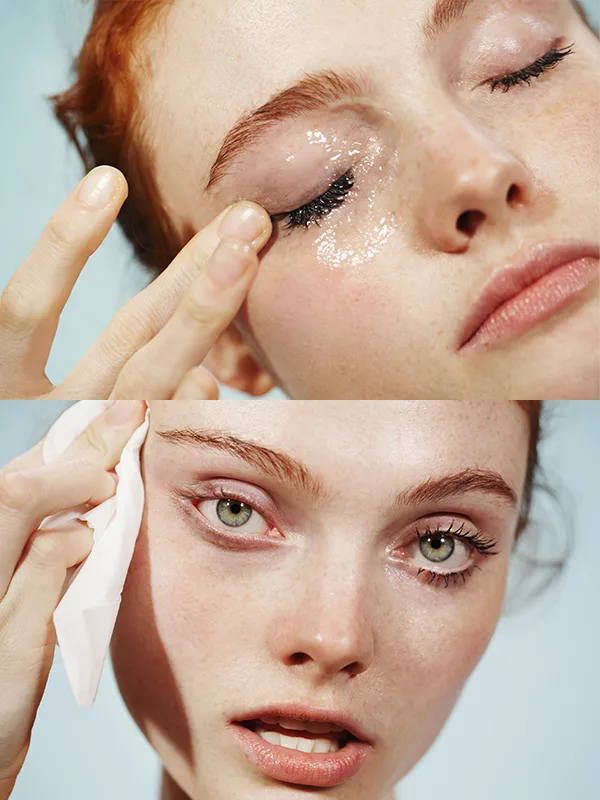 Everyone with dry skin knows the struggle of finding a cleanser that doesn't dry out your skin, but it seems like the cruelty-free cleanser by glossier might be a perfect choice! It has a creamy gel consistency which is best for dry skin.
The formula consists of Pro-Vitamin B5 and Allantoin which are skin conditioners. They work together to restore and improve the skin barrier and keep the skin nourished and hydrated.

As we all are aware many cleansers leave your eyes watery because sometimes the ingredients can be a bit harsh on the eyes, but this cleanser consists of Poloxamer which is an eye-safe cleansing agent to help protect the eyes, not only is it cruelty free, it is also safe for use.

This formula is so hydrating that after using the cleanser you won't have to rush to use a moisturizer for fear of your skin drying out. So stay calm and enjoy this soothing and nourishing cleanser in your skincare routine! And do let us know in the comment section of our list of best cruelty free face exfoliators.
One downside is that it may not suit everyone as it did cause breakouts in some people, so patch-testing is always a great option to do before using any product.
Best For Acne Prone Skin: Squalane Cleanser by The Ordinary
What do we have more on our list of best cruelty free face exfoliators? Here you go. If you're a skin-care maniac it's highly unlikely that you haven't heard of the infamous brand "DECIEM". It started gaining popularity around 2016 because of its affordable price and high quality and since then has been one of the skin-care favorites.

Being on of the best cruelty free face exfoliators, this cruelty free squalane cleanser is another product of theirs that definitely deserves the hype! It's best for acne-prone skin and has been formulated to clean the skin effectively and also leave the skin hydrated and smooth at the same time.

The formula consists of plant-derived squalane, a natural moisturizer that can control sebum production and decrease skin's greasy appearance. Excess sebum is also a root cause of acne, and squalane eliminates it. To make it even better, it's gentle and perfect for sensitive skin. Laphilic ester and malic acid remove every dirt particle and eradicate dead skin cells, leaving the skin feeling spotless.
No matter we have mentioned that it is one of the best cruelty free face exfoliators, if you prefer a foaming cleanser, this isn't for you. It can potentially cause burning of the eyes and hence cleaning mascara and eye shadow can be a hassle. Nonetheless, the pros outdo the cons and make this a high-effect cruelty free cleanser that can treat acne.
Best For Anti-Aging Effect: Tata Harper's Regenerating Cleanser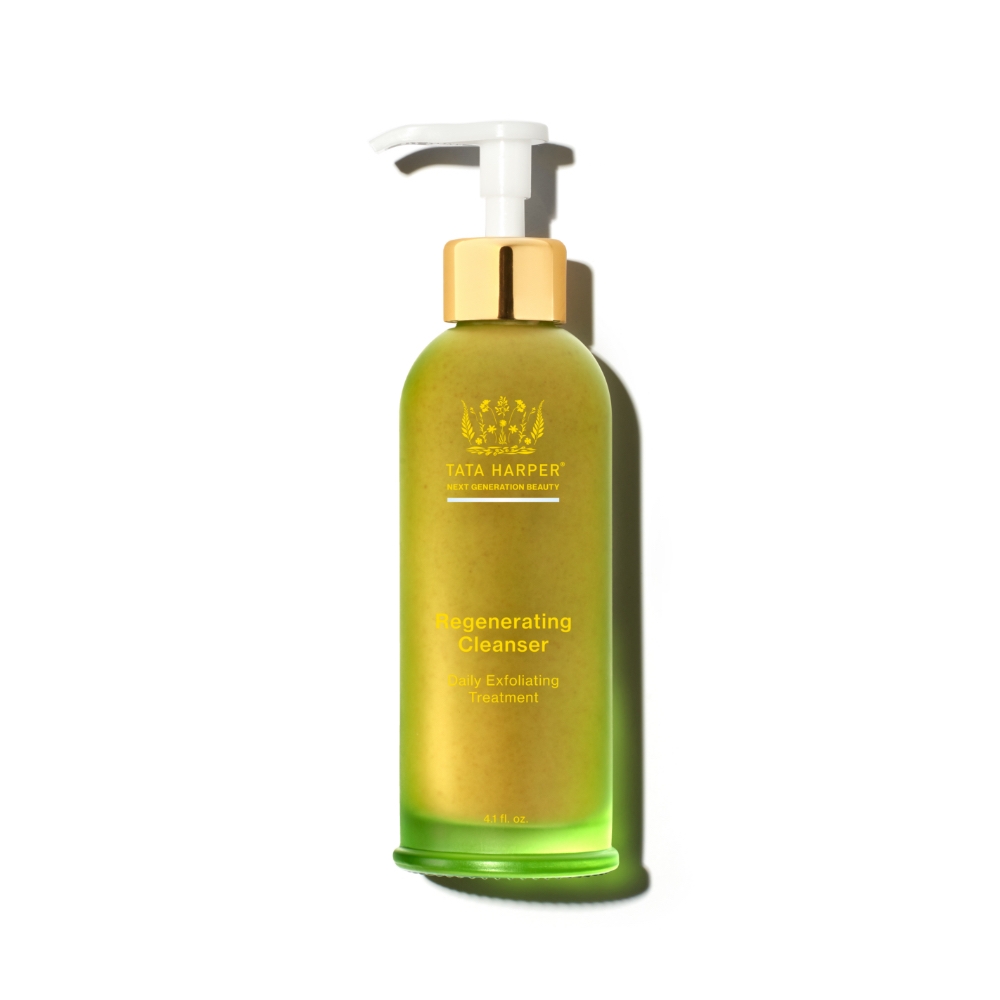 Oh,  what a blessing this is. Last but not least on our list of best cruelty free face exfoliators. What could be better than being able to exfoliate and rejuvenate your skin at the same time? Tata harper has done it again with their cruelty free regenerating cleanser, which is oil soluble and can go into the skins dept for the best exfoliation.
The unique blend of willow bark and pink clay goes within the pores eliminating excess oils and pulling all the dirt accumulated within the pores. Pomegranate extract has an anti-inflammatory effect, and the apricot seed kernel moisturizes the skin, making it the ultimate cruelty free cleanser.
Aloe vera encourages the growth of healthy skin cells and also clears out blemishes when coupled with pomegranate extract. Also, it's free of synthetic products and fragrances and hence great for sensitive skin.
It's the only cruelty free cleanser on this list for which we have no warning or negative review. It's truly a magical elixir. If you're still not convinced, it also shows almost immediate effects after application by making the skin squeaky clean, and silky smooth. What more do you need? Do your skin a favor and get this cleanser!
Only through the boycott of brands that support testing on animals can we eradicate the suffering of helpless animals. Be proud of yourself because you have already taken the first step by researching and attempting to bring a change, your choice matters.
If you are looking for more cruelty free skincare brands, we highly recommend elf skincare, check out our review of their best sellers!
After going through our list of best cruelty free face exfoliators, do check out our best cruelty free highlighters!