Do you think elf skincare is worth it? Let's read the elf skincare review.
Being a skincare fanatic is not easy on the wallet. It's hard to ever find a brand that provides quality but also doesn't empty your wallet. This is where the elf acts like a saving grace. 
The drugstore brand rose to fame with its groundbreaking concealers and foundations, which were priced like a drugstore item, but worked like a high-end brand. It started as a makeup brand but recently elf came out with its line of skincare products as well.
With their astounding reputation, the expectations and curiosity of the skincare world are at an all-time high. Questions like, are they really as good as their makeup, or is it just an empty attempt to make money? Can they really compete or perhaps be a dupe for infamous skincare brands like Dior and La Roche Posay?
To answer all these questions, we decided to review the 6 all-time best sellers of the elf skincare line!
One thing you must know before we start is that all elf products are vegan, cruelty-free, gluten-free, and "free from phthalates, parabens, nonylphenol ethoxylates, triclosan, triclocarban, and hydroquinone. All skincare is also free from sulfates" – elf website
1) Pure Skin Cleanser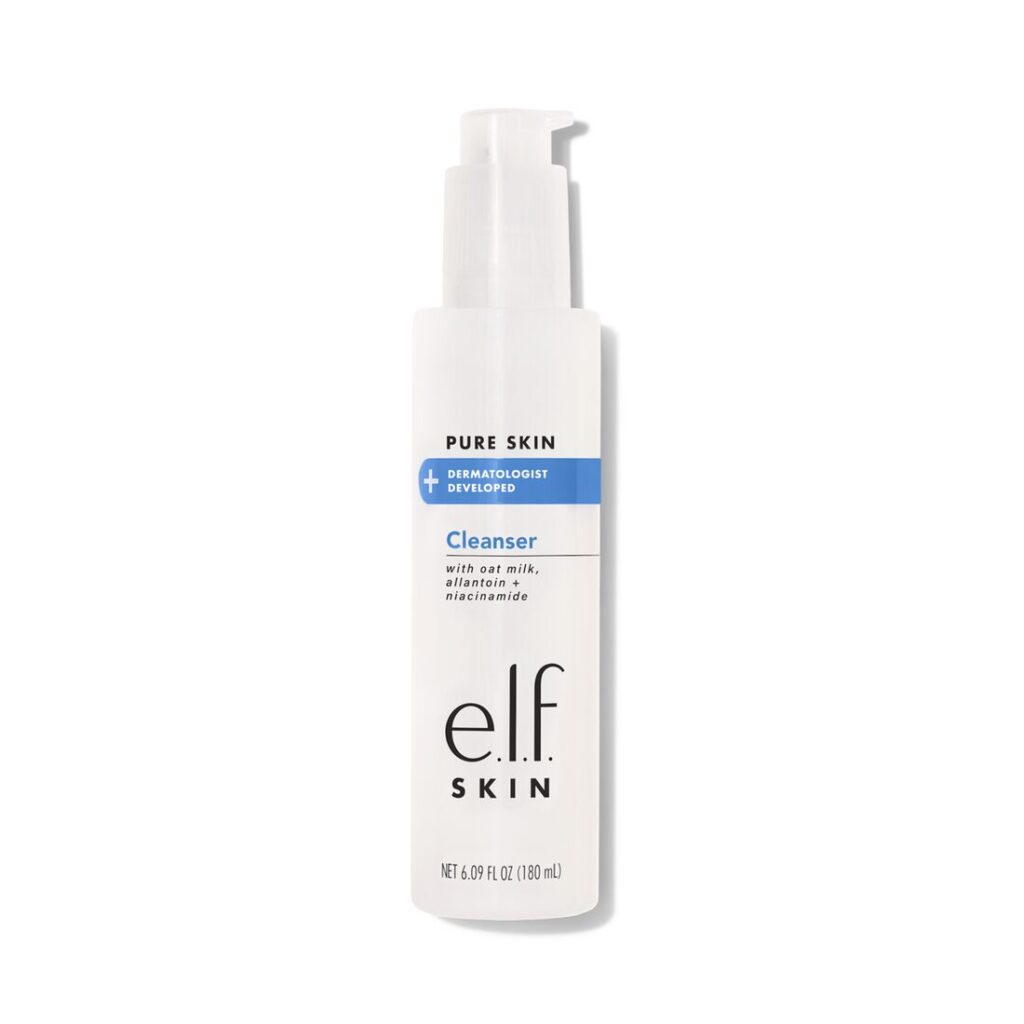 The first step in any skincare routine is cleansing, but finding the perfect cleanser can be hard, especially for those with sensitive skin. If you're one of them, worry not, this fragrance-free cleanser from elf can be the best thing for you!
The cleanser is formulated from nutritious oat milk, ceramides, allantoin, niacinamide, and hyaluronic acid. Ceramides are naturally occurring fats that create barriers in the skin's outer layer, when combined with hyaluronic acid, it provides ultimate hydration for the skin. Niacinamide and allantoin contribute to decreasing pore appearance and moisturizing the skin.
Honestly, it's one of the best cleansers and worth more than its price. The non-comedogenic cleanser does not dry the skin at all no matter what your skin type is. The light lotion-like consistency of the cleanser is extremely gentle on the skin but is still able to remove dirt, oil, stubborn makeup, and deeply clean pores. In conclusion, it is worth being a new addition to your daily skincare routine.
2) Vitamin C Serum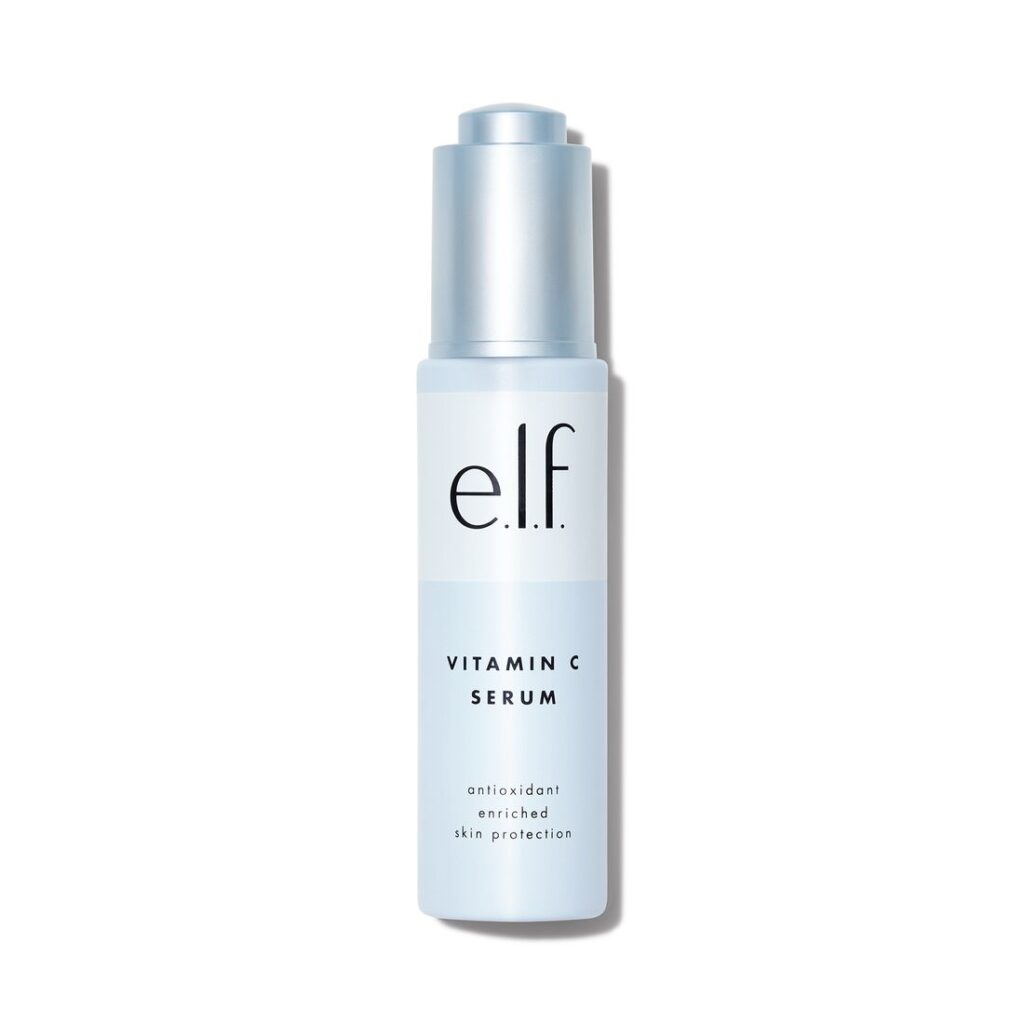 Vitamin C is one of the most essential vitamins required by the skin and hair to keep itself healthy. A naturally occurring molecule found in the body, known as collagen, is primarily made of vitamin C and is also protected by it. Collagen gives the skin flexibility and strength, therefore providing your skin with an abundance of Vitamin C can help reverse the aging process, by decreasing the skin's droopiness to give it a more firm and youthful appearance. Vitamin C can inhibit the production of excess melanin and as a result, can effectively fight hyperpigmentation and dark spots.
To make it even better, the anti-aging serum is infused with vitamin E and pomegranate extract. Vitamin E is a well-known anti-antioxidant, that also has the property to strengthen the skin's natural boundary to trap the moisture within the skin which results in hydrated skin. Pomegranate is rich in phytochemicals and further enhances the effects of vitamins E and C.
This serum is a godsend, you can never really go wrong with vitamin C. After using it for weeks, the results are undeniable, as the skin looks plump, vibrant, and dewy. Moreover, its thin consistency is super easy to absorb into the skin and does not leave a sticky feeling, as a result, it's extremely compatible with makeup. All in all, it's an amazing serum, perhaps the best in the market in this price range.
3) Holy Hydration! Face Cream
One of the originals of the elf skincare line, this face cream is an award-winning product. It aims to hydrate your face to give it a radiating appearance with its powerful blend of hyaluronic acid, vitamin B5, niacinamide, and squalane.
Niacinamide has been best known to minimize pores, though it can also help treat acne. Its anti-inflammatory effect can help reduce pus-filled acne and when combined with squalane, they protect the skin by removing toxins from within the skin while also fighting any free radicals.
Collagen (protein) cannot dissolve or move past the skin barrier because of its size, however, peptides can, hence the cream smoothly blends the peptides in its formula into the skin.
Hyaluronic acid is often added to cosmetic products to help strengthen the skin boundary to trap moisture in the skin, vitamin B5 further assists it by controlling the oil production. Combined with previous benefits, it can reverse aging.
The extremely hydrating cream is lightweight and amazing to wear at night. It has a non-tacky finish, therefore, it is just as good for daytime too. After applying it for quite some time, you can feel that the skin becomes healthier, as the brand claimed, and radiant, to the point the need for makeup is minimal. It gave everything it claimed it would, impressive!
4) All The Feels Facial Oil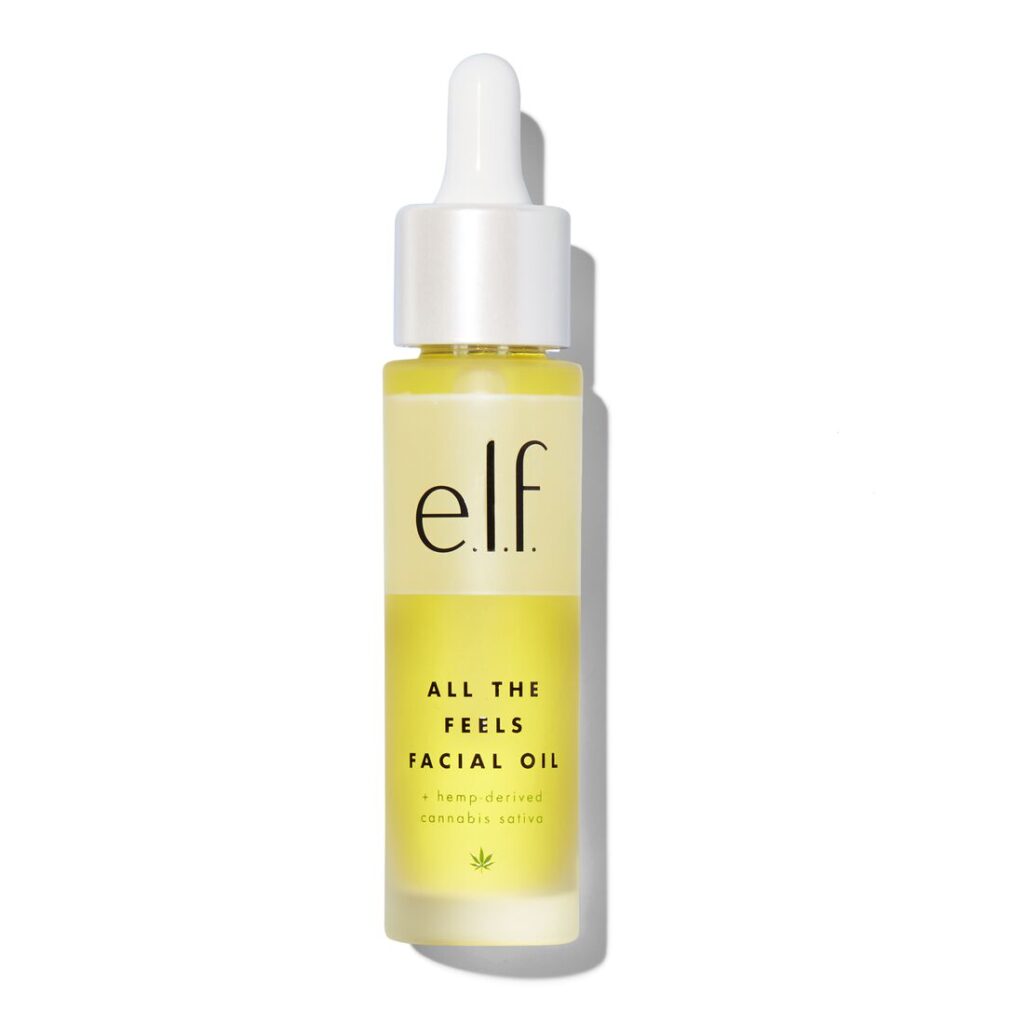 This facial oil is a combination of rosehip oil and hemp oil, with squalane as a key ingredient. Its quick results and cheap price, rapidly earned popularity among the skincare community, especially on YouTube.
Hemp oil is especially good for balancing skin out whether oily or dry as it regulates oil synthesis. Following the same theme as most of the elf skincare products, it has anti-aging properties that smooth out wrinkles and fine lines.
Rosehip further decreases the aging of the skin by promoting collagen synthesis and keeping the skin hydrated. The berry's unique oil can exfoliate, moisturize, fight hyperpigmentation and provide protection against sun rays, while squalane creates a defense against free radicals.
In conclusion, this elixir can purify and firm the skin while providing it with a layer of defense against several threats to the skin. The oil feels astonishingly lightweight. When compared to other types of oil it is extremely easy to absorb into the skin, and if used consistently, we are sure the oil can have miraculous results!
5) Youth Boosting Advanced Night Retinoid Serum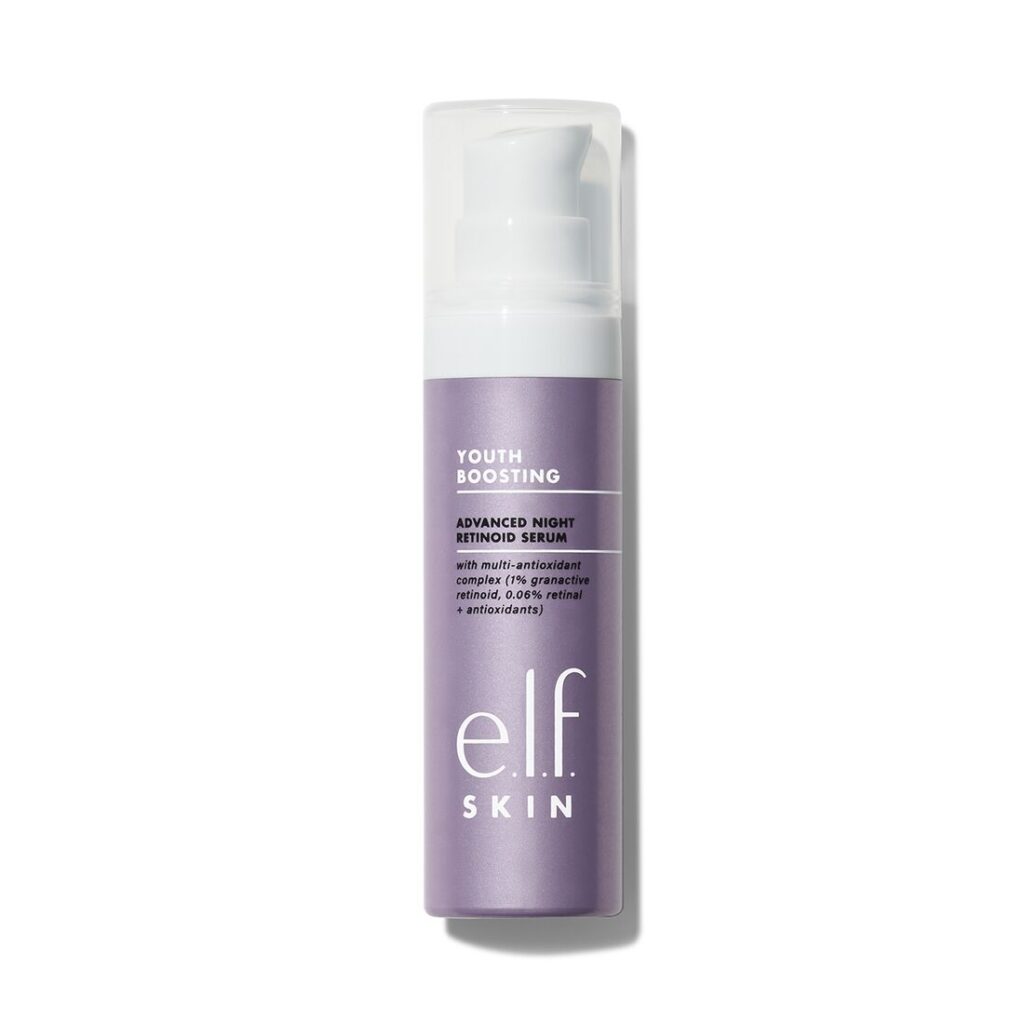 No matter how long you've been a part of the skincare world, you must have heard of the magical nutrient, retinoid. Retinoids can be described as anything related to vitamin A. Many skincare experts advise the regular use of retinoids especially after the age of 20 to maintain youthful skin and slow down the process of aging.
As we have discussed multiple times before, collagen helps in skin strength and elasticity. Retinoids can speed up and increase the synthesis of collagen and promote the growth of new blood vessels, which in turn increase the flow of blood. Consequently, the complexion gets better, most of the scars get healed and the skin remains youthful. Retinoids have been found to clear up darkened spots on the face, unclog pores and regenerate cells, as a result velvety, smooth and Glowing Skin texture can be achieved.
Elf was able to deliver with this product, the retinoid serum has one of the best forms of retinoid that have been proven to show extraordinary results. Its runny consistency is easy to apply every night before bed, and the results are apparent within weeks. No wonder this serum is an all-time bestseller!
6) Suntouchable! Whoa Glow SPF 30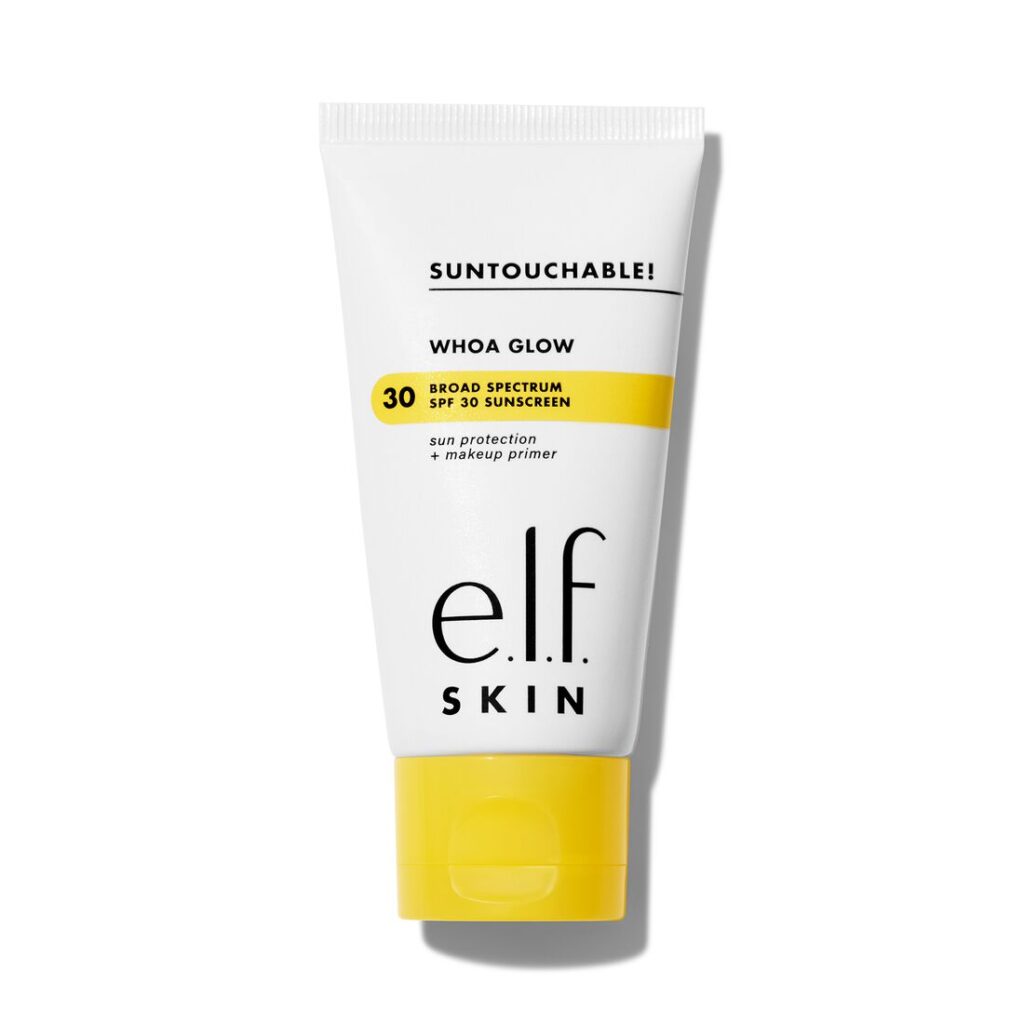 Elf skincare obviously released the MVP of skincare, the sunscreen. All your efforts in maintaining your skin are never going to last unless you protect them from the UVA/UVB rays, which is why you need to seal your other skincare products with sunscreen. Missing sunscreen in your skincare is considered a sin in this community.
This non-comedogenic sunscreen is a broad spectrum, which is a term used to describe sunscreen, that can protect from both types of harmful sun rays, UVA/UVB. 
The formula is made of hyaluronic acid and squalane, together they create a strong skin barrier to stop water from leaving the skin, consequently, they lock the moisture within the skin. Additionally, aloe vera has a soothing effect on the skin. The 2-in-1 sunscreen and primer, not only protect your skin but also forms a nice sticky base for your makeup to adhere to.
It's extremely lightweight and easy to blend. The light addition of shimmer adds to the overall radiant effect, making it a great dupe for SuperGoop! GlowScreen. Quite frankly, elf outdid themself with this sunscreen and primer hybrid, they really are stepping their game up!
Conclusion
Elf skincare is worth the hype. That's it. All the skincare are perfectly formulated and none of the claims are exaggerated. They are extremely gentle on any skin type and rarely ever cause a reaction. The best part is their product manufacturing is cruelty-free and vegan, making it the perfect choice for any skin type. Elf definitely has the potential to compete with leading drugstore brands like Cerave and the Ordinary. It's a perfect blend of creativity, quality, and affordability, we cannot wait to see what else elf has in store!!